PHOEBE CLERIDOU
GENERAL MANAGER - PARTNER
Phoebe Cleridou (LL.B, LL.M – UCL) is a valuable member of the team since 2008. With a master's degree in Corporate & Commercial Law from UCL, she specializes in cases relating to the financial sector. She was head of a team of lawyers who undertook the cases of debentures after the Cyprus Popular Bank closed down in 2012. Her specialization in banking law as part of her master's degree and her in-depth knowledge of anti-money laundering legislation and European regulations made her the ideal compliance officer of the firm and was appointed in the position in 2017.
From the very beginning, she has been also dealing with inheritance matters such as wills and administrations, both in Cyprus and abroad with clients from Greece, the United Kingdom, the United States, Australia, South Africa and Canada. In addition, Phoebe has many years of experience in Family Law cases and, in particular, divorces, property disputes, alimony and custody issues both in and out of court. Since 2014, she has been teaching Family Law at Universities in Cyprus. Her articles have been published in the press and legal journals. The most recent article in 2020 concerned e-justice and the consequences that the coronavirus has on the legal profession.
In 2018, Phoebe became Partner and General Manager of the firm. After the assignment of her duties, her main objective was and is a gradual upgrade of the company to meet the current needs of the market. To date, one of the main upgrades was the introduction of an e-management system that digitalized and automated most of the administrative work of the company and staff in order to save time, minimize errors, monitor deadlines and inform speedily on a daily basis clients. Furthermore, she has undertaken and completed the digitalization and archiving of the firms library counting currently more than 5000 law books, which are a powerful tool for the company's lawyers. 
In April 2023, she completed the ICA course in AML for ICPAC and CBA Member with Merit. 
Phoebe is currently studying at the University of London for her MBA while working at the firm.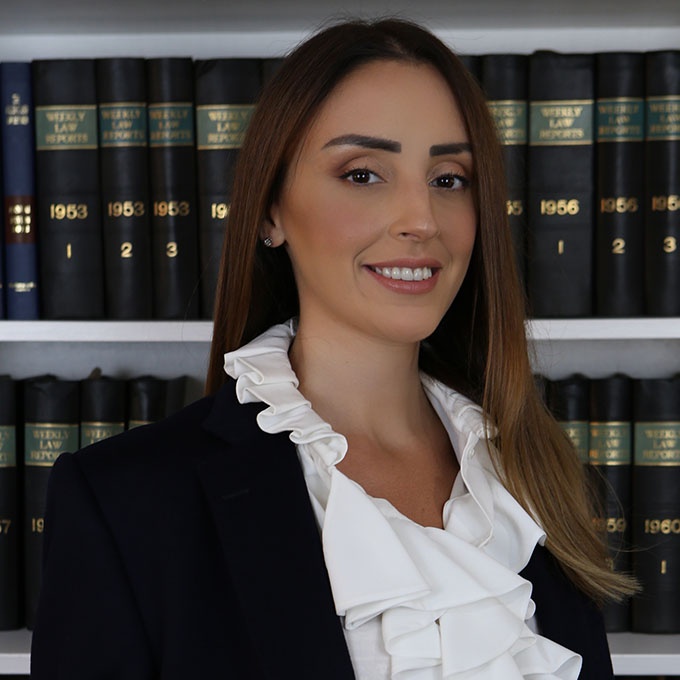 language capability
Greek (Native Language)
English (Fluent)
German (Proficient)
education
University of Essex
DEGREE: LLB
SPECIFIC SUBJECTS: Criminal Law, Constitutional Law, Land Law, Company Law, Equity & Trusts Law, Human Rights Law, English Legal System, EU Law, Contract Law, Jurisprudence
YEAR:  2003 - 2006
Univeristy College of London (UCL)
DEGREE: LLM
SPECIFIC SUBJECTS: Company Law, Banking Law, Corporate Insolvency Law, EC Competition Law
YEAR:  2006 - 2007
bar admissions
Cyprus Bar Association since 2009
contact
Nicosia Offices
T: +357 22753015
E: p.cleridou@clerideslegal.com